Digitalizing large video cassette archives
Recovering and preserving digital tapes is a kind of problem to be resolved quickly for many large archives managers. The lifetime of video cassette supports is limited and their recovery can be quite difficult and expensive. This is especially true for the oldest U-Matic and Vhs cassettes that often require many cleaning and unlocking passages before they can be read and digitalized.
The company Indelt, which has been producing tape-cleaning devices (TC-Matic) since 2004 and multiformat robotic systems for video cassette handling (MI60, MI240, ProCart, Broadcart T2 and T3) since 1987, also offers a service for cleaning and digitalizing video cassettes on digital media in virtually all SD and HD formats used in the video industry (DV25 Encapsulated AVI or MOV, Mpeg-2 MP@ML or 422P@ML, MXF, Prores, etc.). The customer send to us the cassettes and we send back to him them cleaned and recorded to a digital support (hard-disk or storage server as required). This is offered as a service ex-work at our facilities in Livorno (Italy).
DigiCart simple ingest software
Indelt sells cleaners and robotics to those OEM who want to use them with their own management software or alternatively using our simple ingest software named DigiCart.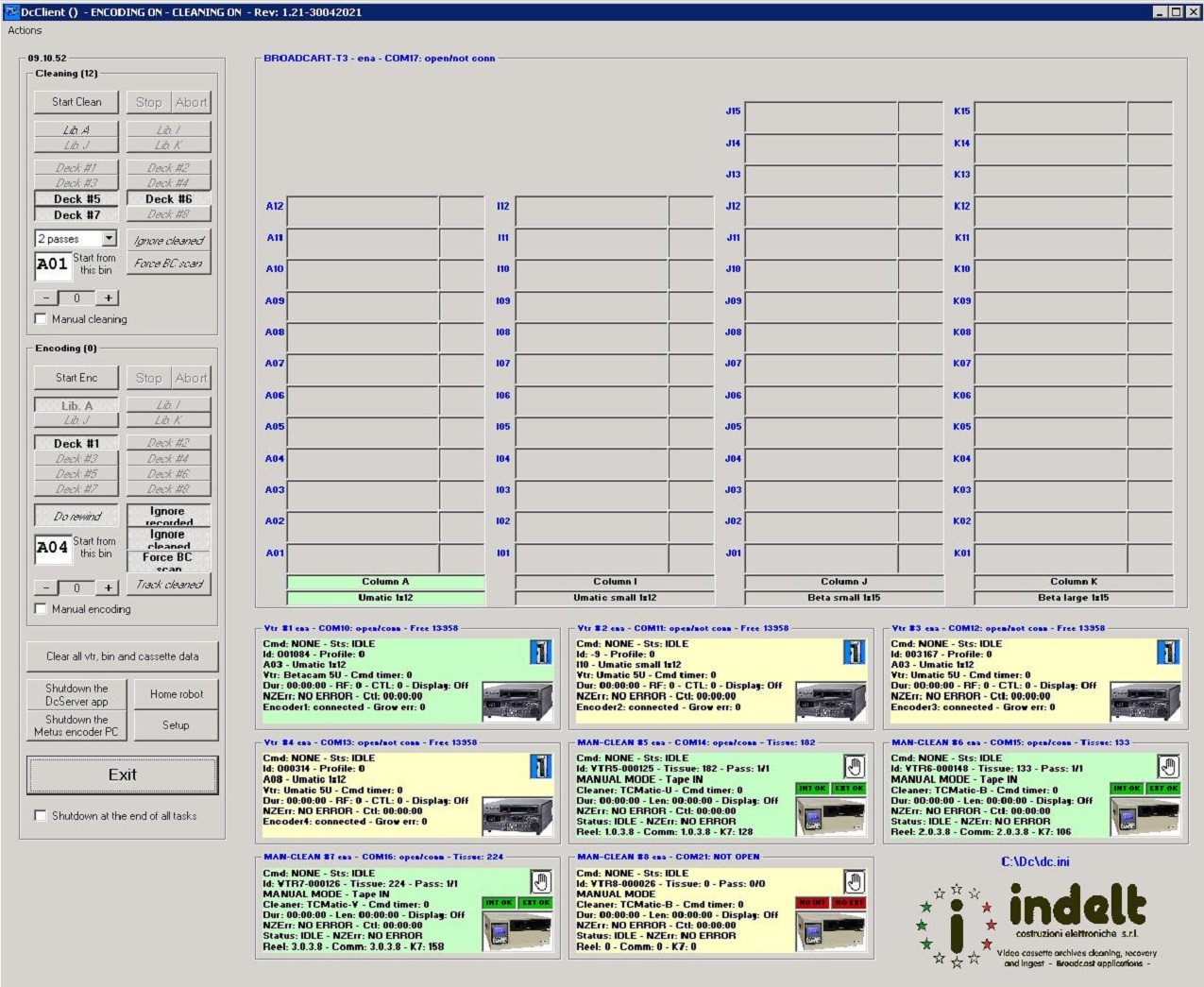 In the course of the years Indelt has developed a simple ingest software that integrates one robotics Broadcart T3, several vtr of various formats and standards, several Tc-Matic video tape cleaners and the Metus Ingest encoding software in a single powerful system able to clean and digitalize virtually all the existing cassette formats with a minimum human effort limited to replacing recorderd cassettes with new one and checking and archiving the recorded video files.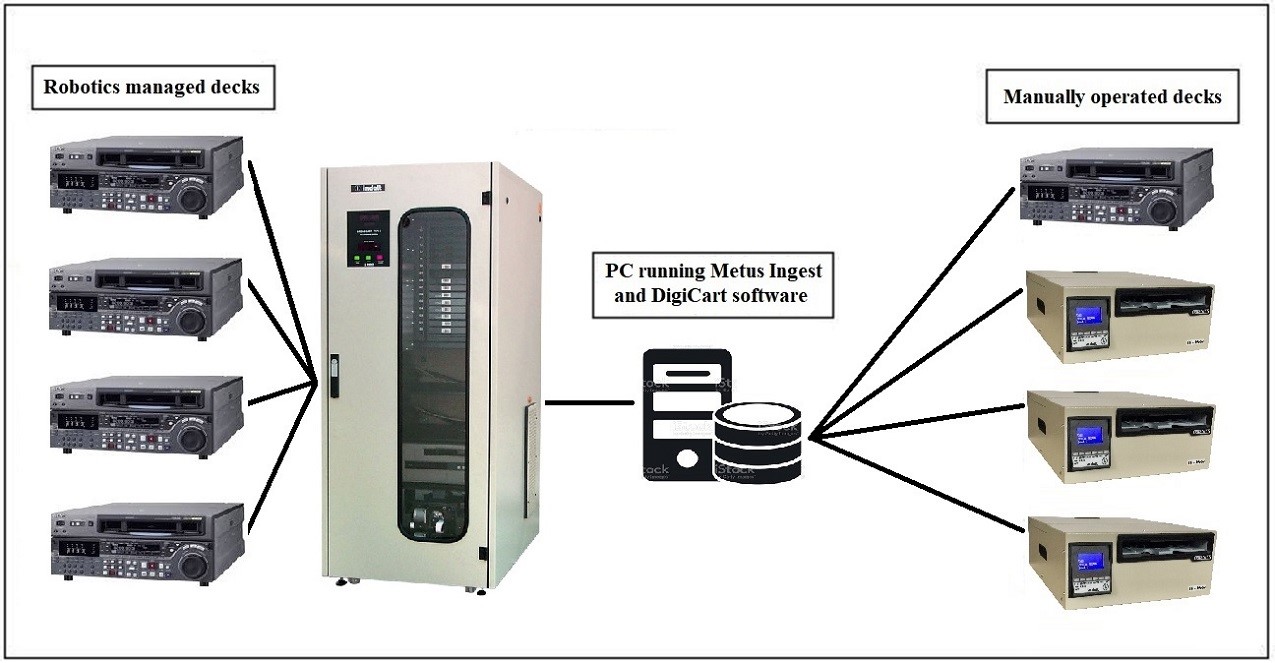 The software can manage up to eight decks, vtr and Tc-Matic cleaners in any possible combinations and one Broadcart T3 robotics. The decks may be configured for being served by the robotics or not. If yes the robotics will load and unload them automatically while if not they are loaded and unloaded manually.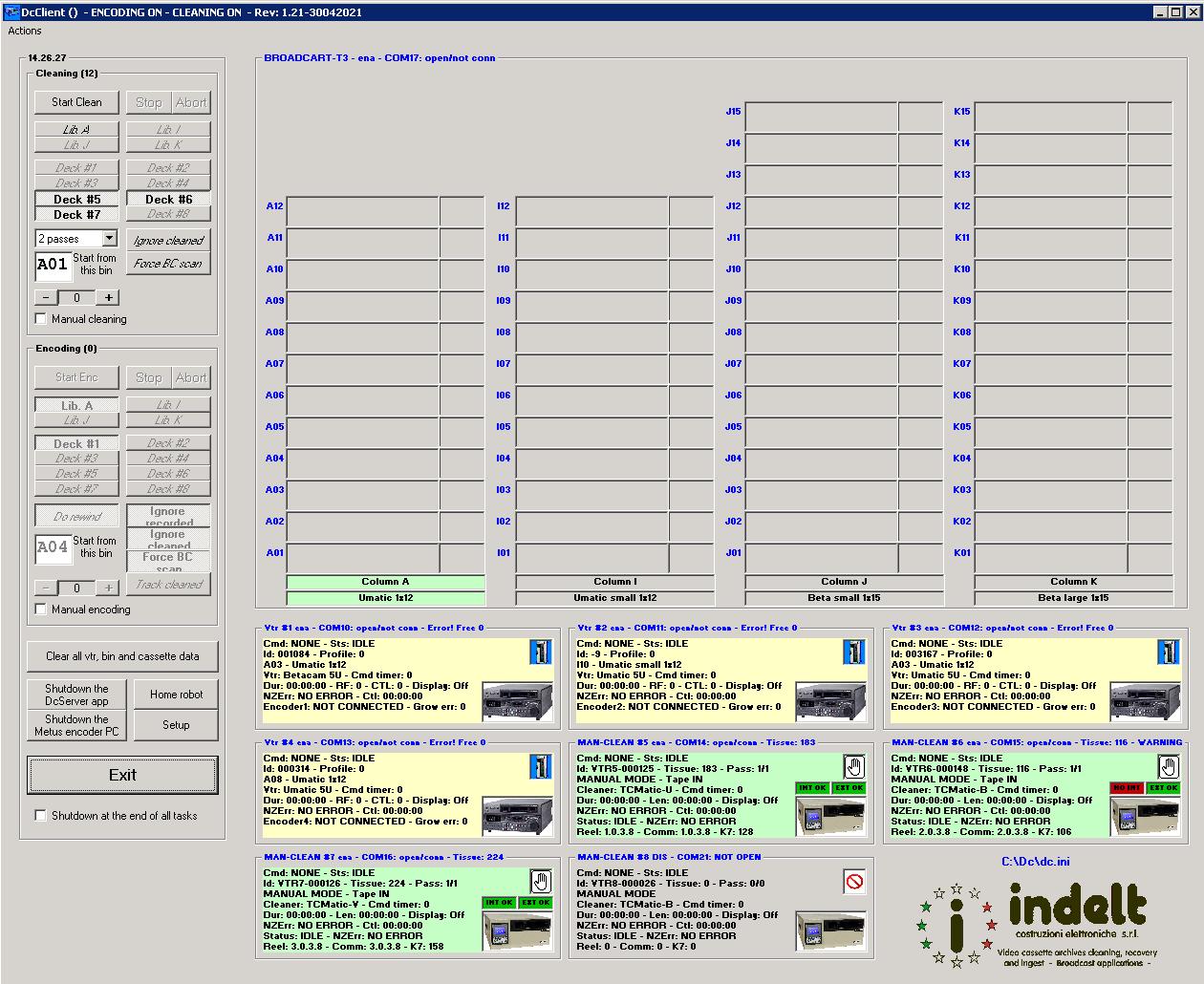 These pictures are showing a session where one umatic vtr is recording a bunch of umatic cassettes using a Broadcart T3 robotics. In the meantime three Tc-Matic cleaners manually operated are cleaning some other umatic, betacam and vhs cassettes. This is just an example of one from many possible configurations.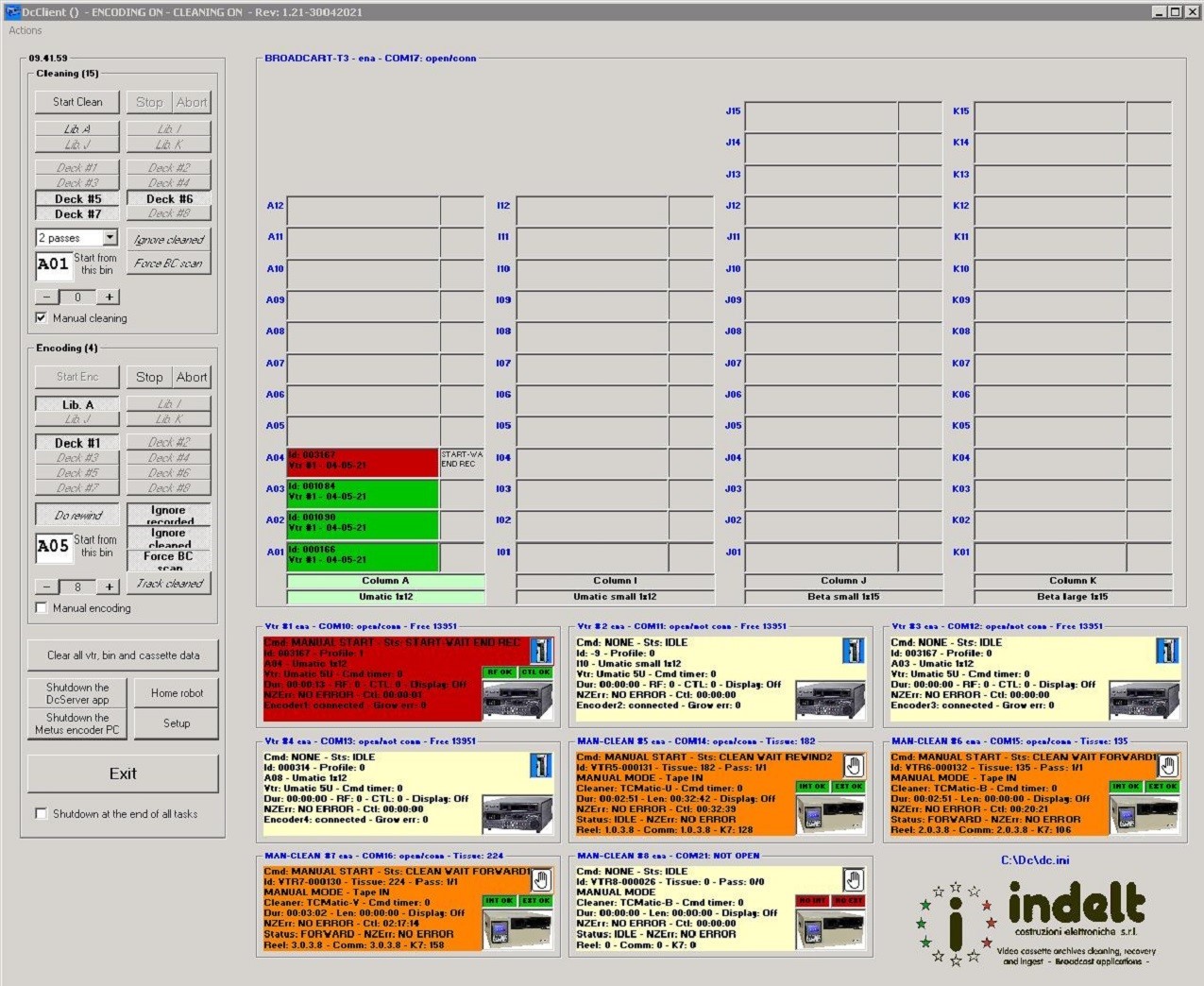 The DcServer runs minimized and takes care of the connections and management of all the hardware using an RS232/422 serial hub and the LAN to connect to the robotics, vtr, cleaners and the encoders furnished by the software Metus Ingest.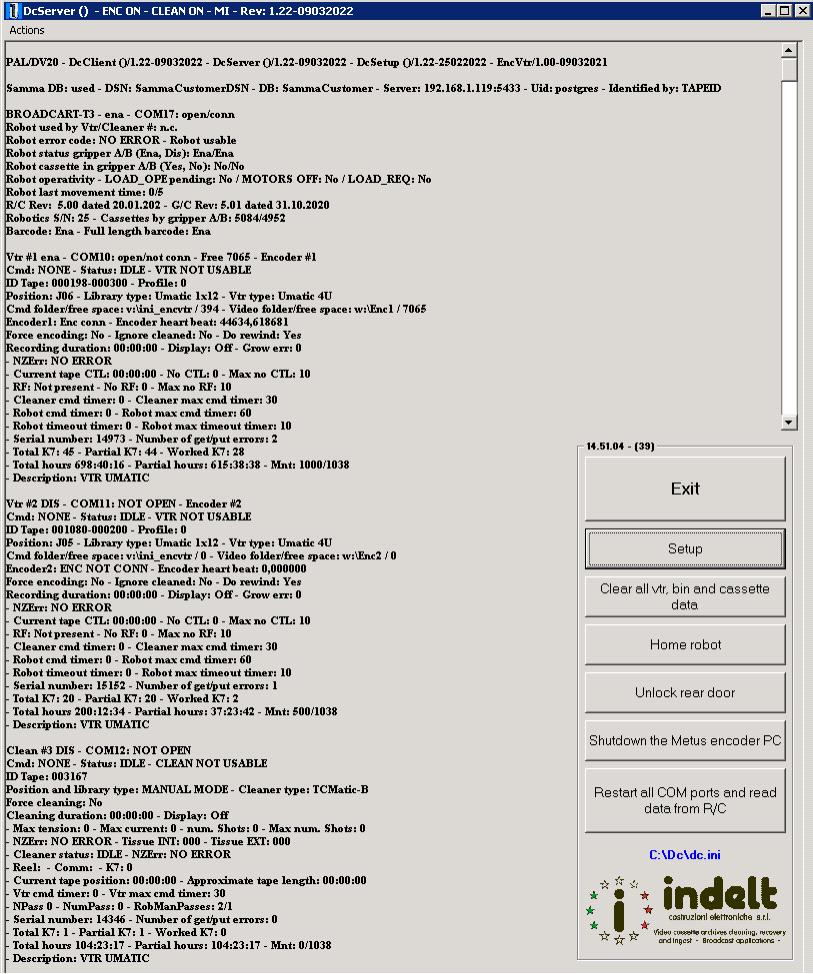 The configuration of the whole system is made using the DcSetup application.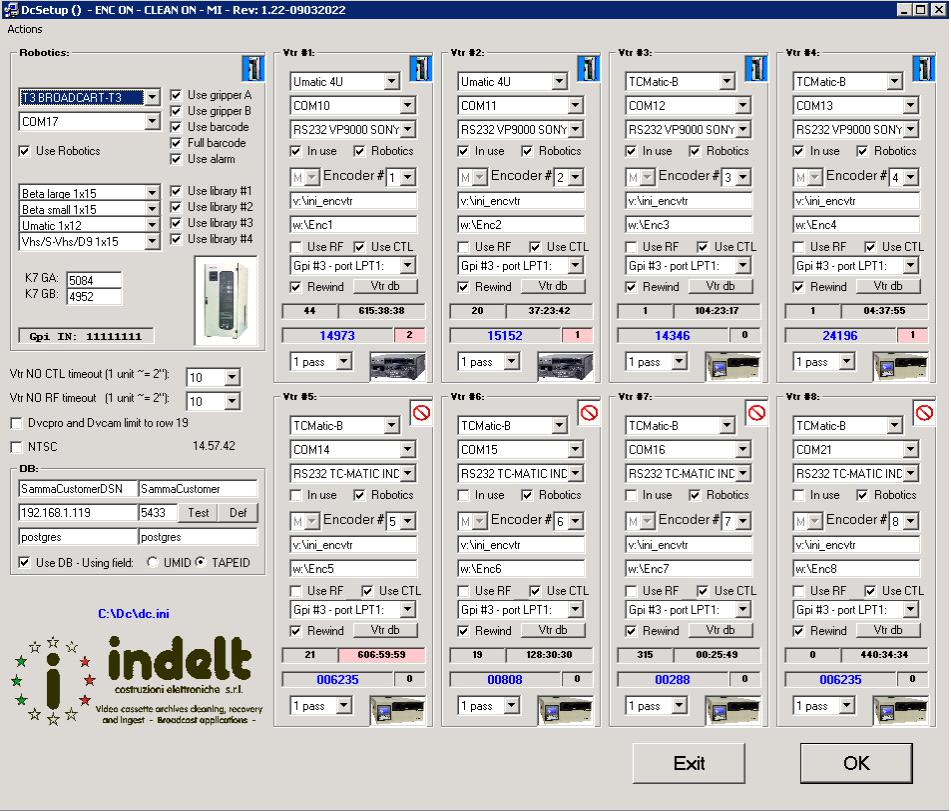 Both Indelt DigiCart and Metus Ingest server, used to encode up to eight independent streams, are running on a server class PC. The server manages a local storage of about 8 TB, configured as RAID10, that is used as a temporary buffer for the recorded files that will be moved by the operator to the final destination after being checked. Both vtr and cleaners may be used in any configuration up to a maximum of eight and may be managed by the robotics or operated manually as preferred.
Examples
In the following a short video showing a Broadcart T3 robotics feeding an umatic Sony VP9600 vtr.
Another short video showing the implementation of an OEM of ours with one robotics Broadcart T3 and various vtr.